Write to Marry Day pt. 2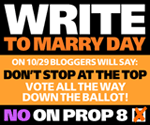 This is part of the WRITE TO MARRY DAY. It is a day late. I apologize for that.
Back on Valentine's Day 2004, I went home to St. Louis.
My mom had been diagnosed with late stage colon cancer a month earlier in January. They had put her on a traditional treatment for it, but were going to switch to a more aggressive treatment soon. I wanted to go and visit with her for various (obvious) reasons, and Valentine's Day 2004 fell on a three day weekend (President's Day).
AJ understood. He offered to fly out with me, but I told him that wasn't necessary. I wanted to spend some time with my mom, and had taken an extra day or two off, something he couldn't do with his work schedule.
While at home visiting, I remember coming down the stairs while my parents watched the news on their enormous rear projection television, and seeing on the TV the hundreds of people gathered at City Hall in San Francisco, celebrating their marriage. It was the first time in the United States that same-sex couples could get married. I remember being shocked, awed, and joyous at what I saw before me, all the while poignant and sad not only because I wasn't there to witness it in person, but because of the reason
why
I was not there. I was fearful for my mom's health, fearful for what was to come with her treatment, and selfishly fearful that my mom wouldn't be around when AJ and I did eventually marry.
I flew back home and AJ and I discussed possibly getting married right away. Who knew how long the courts would allow the weddings to continue? Who knew how long they would be legal? And (I thought secretly and ashamedly in my head) who knew how long my mom would be here in this world? The same-sex marriages in San Francisco was an unprecendented groundbreaking event and I didn't know how to respond.
Ultimately AJ and I decided not to get married back in 2004 for a number of reasons. We had never had a commitment ceremony before, and we knew if we were to get married we would want to hold a ceremony. We would want to have a some sort of event, completely with a reception and a cake and all the trimmings of a traditional wedding. We wanted the celebration of our relationship, we wanted the gathering of our friends and loved ones, and we wanted a party. A big fat celebration of our love and life together.
March 11, 2004 came and the courts stopped the city of San Francisco from issuing marriage licenses. Over 4000 same-sex couples' licenses were declared void by the state Supreme Court.
On May 15th, 2008, four years later, the California Supreme Court overturned the ban on same-sex marriage, ruling that it was a constitutional right for all people to be allowed to marry in the state of California.
AJ and I awaited this ruling with little expectations. On that day, I tried to find out about the ruling, but ended up getting sidetracked at work...and it wasn't until AJ called me at 10:03am, after downloading the PDF of the ruling and skimming it to find out the ruling - before the news outlets even reported (CNN actually reported it wrong at first).
AJ started crying on the phone to me. I choked up and went into shock. There were other gay/lesbians in the office, and I couldn't look at them or tell them about the ruling, for fear that I would start crying right there in the office. They ended up finding out an hour later, when one of them went online and then yelled out loud "WE CAN GET MARRIED!!!!"
AJ and I talked about getting married again. We were worried that our opportunity might pass yet again. There was this Proposition that was to be on the November Ballot - Proposition 8. It would amend the California constitution making same-sex marriage illegal.
In the end we realized that we did not want to feel pressured into getting married by a deadline. Why is it that our other friends gets to get married whenever they want, however they want? Whether it was a huge wedding and ceremony, or a small intimate event. Whether it was a shotgun Vegas wedding or big lavish affair at home or in an exotic destination?
The average wedding planning takes 12 months. AJ and I would have to plan our wedding, no matter how big or small we decided it would be, in just short of 6 months, because we were fearful that Proposition 8 might pass. We weren't having it. We would need more time, and we would need to have our wedding out love
not
out of fear.
So we hope and we pray that Proposition 8 does not pass. In the meanwhile, we watched the polls go up and down in support and against the Proposition. We threw a dessert party fundraiser where we raised over $1000 to help fight the Proposition. We donated money, more money than we could afford, to help fight an amendment that would
eliminate our fundamental civil right as defined by the California Constitution
.
We want to get married, and we want to have that ceremony that is both spiritual and legal combined...just like everyone else. We just have to fight for it....
Do not amend the California constitution with discrimination and hate. Please please PLEASE, if you can vote in California, vote
NO on Proposition 8
. Do not take away our fundamental civil right.
AJ and I will be fighting all the way to the voting booth... I learned a little bit about fighting from my mom. She went through some tough times, and the aggressive treatment they put her on for her cancer has side effects that she's still dealing with four years later. But she's still around and I know her and my dad would love to be at our wedding. When we have it.
Vote No on Prop 8. Vote No against Discrimination.
------------------------------

Labels: california, discrimination, homophobia, marriage, proposition 8, same-sex marriage